Hello Folks, no time to cook? Take only 15 minutes of your time, my friend, to pick up our tasty dishes, h

t from the wk hei bold rich flavor in every bite, enjoy with family and friends.
More Parking Available in Back
Appetizers
V1. Soup Bo Vien
Beef meatball soup.
V2. Goi Cuon
Fresh spring rolls (2). Rice paper roll with shrimp, vegetables, noodles and cilantro, served with yummy peanut sauce for dipping.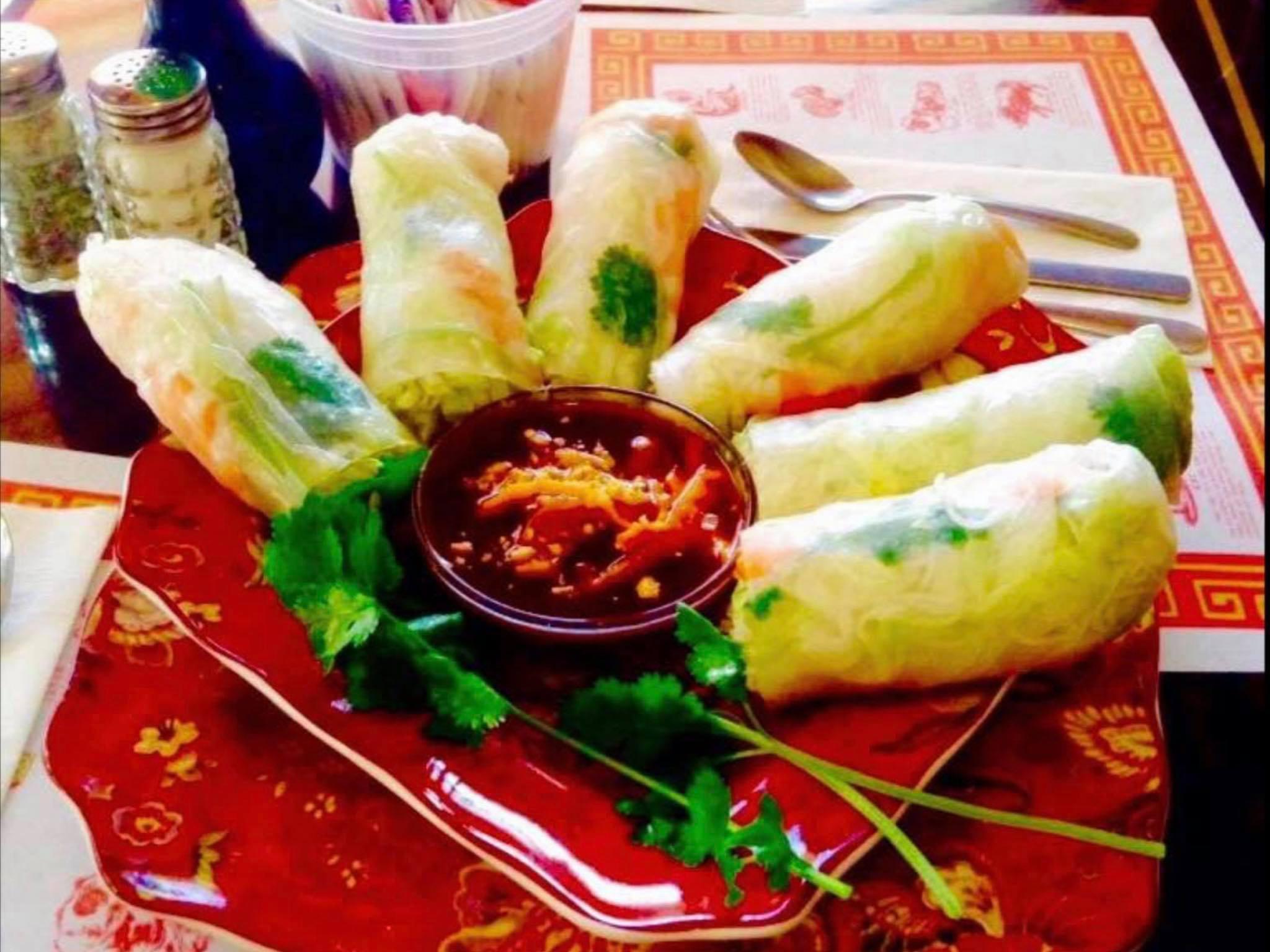 Pictured: V2. Goi Cuon - Vietnamese Spring Rolls
V3. Cha Gio
Vietnamese fried egg rolls (2).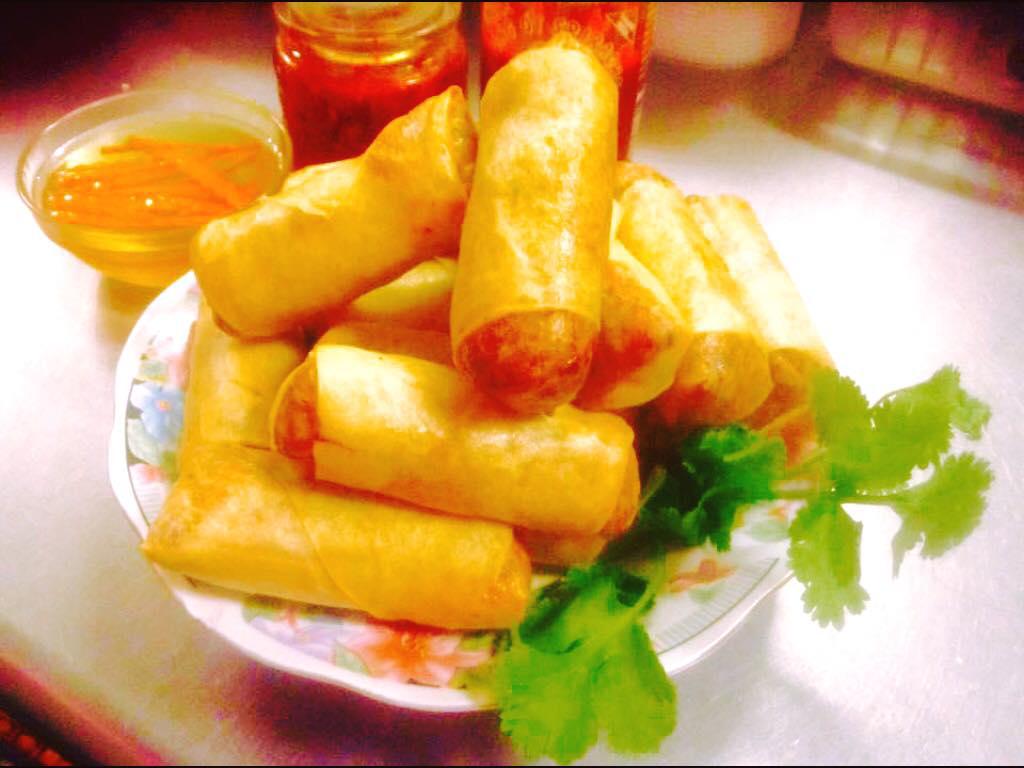 Pictured: V3. Cha Gio - Vietnamese Egg Rolls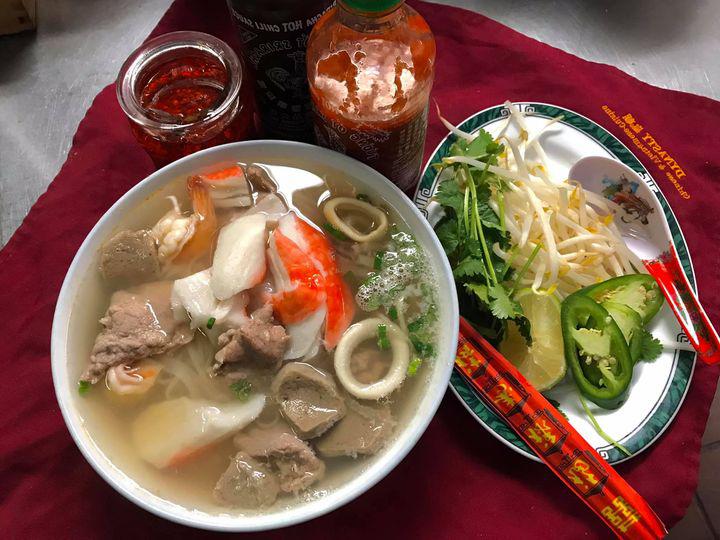 Pictured: Seafood Combo Pho
Pho - Beef Noodle Soup
V4. Pho Bo Vien
Rice noodle soup with beef meatballs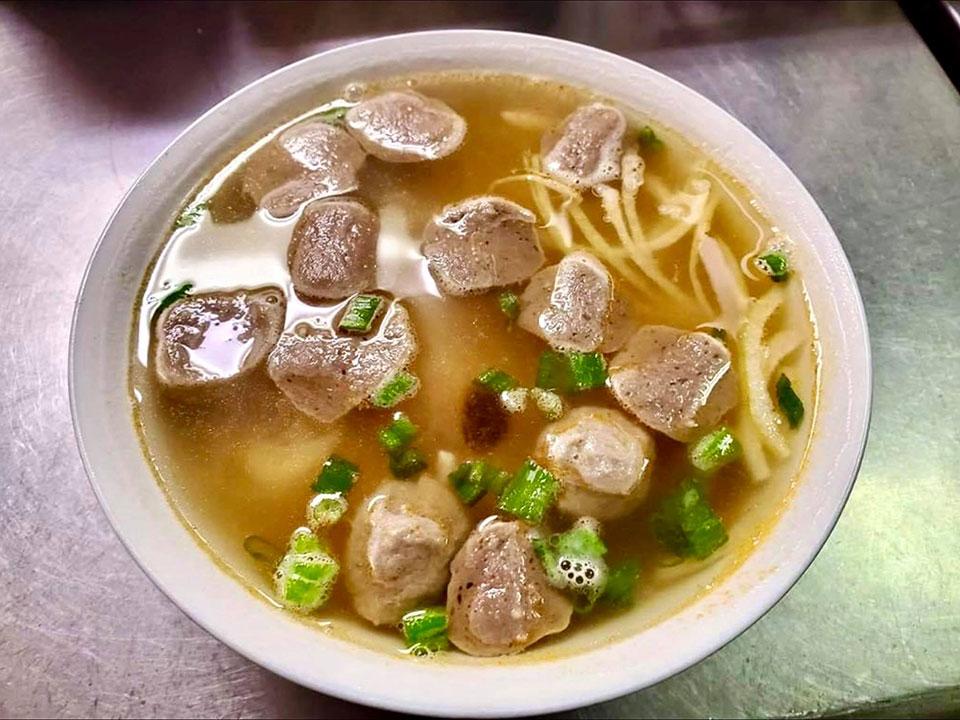 Pictured: V4. Pho Bo Vien - Rice noodle soup with beef meatballs
V5. Pho Tai
Rice noodle soup with sliced beef steak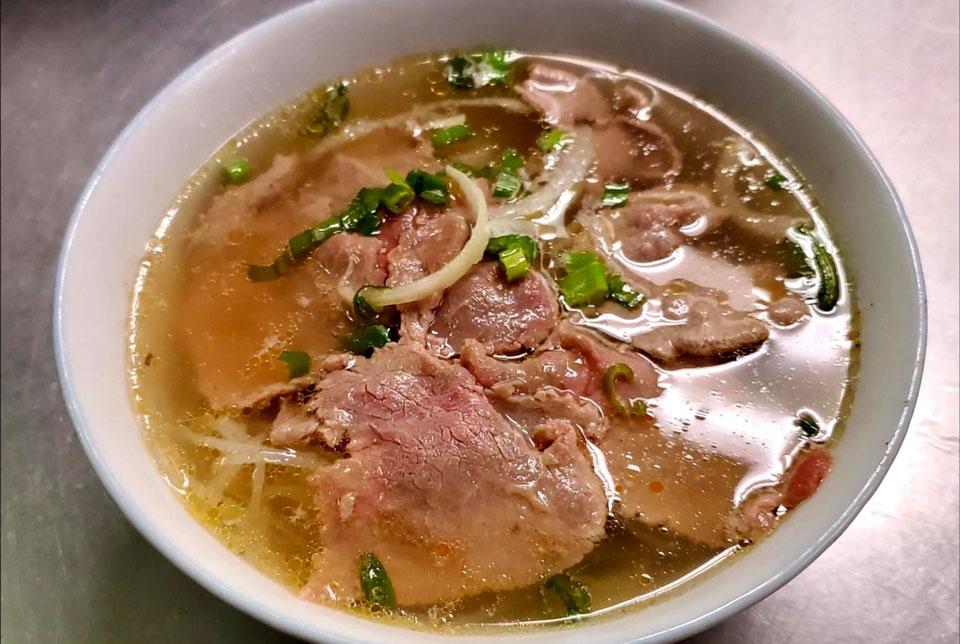 Pictured: V5. Pho Tai - Rice noodle soup with sliced beef steak
V6. Pho Tai Bo Vien
Rice noodle soup with sliced steak and beef meatballs
V7. Pho Ga
Rice noodle soup with sliced chicken
Pictured: V7. Pho Ga - Rice noodle soup with sliced chicken
Mi Hu Tieu - Fresh Egg Noodle and Rice Noodle Soup
V8. Mi Kho
Fresh egg noodle with shrimp and roast pork
V9. Mi Nuoc
Fresh egg noodle soup with shrimp and roast pork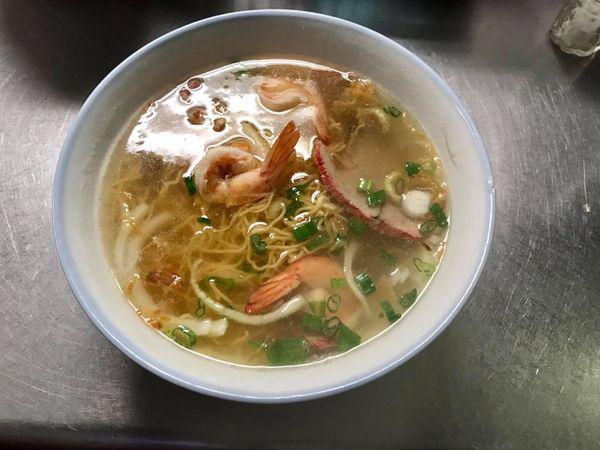 Pictured: V9. Mi Nuoc - Fresh egg noodle soup with shrimp and roast pork
V10. Hu Tieu Nam Vang (Dai)
Clear rice noodle soup with shrimp, roast pork
V11. Hu Tieu Mem
Rice noodle soup with shrimp, roast pork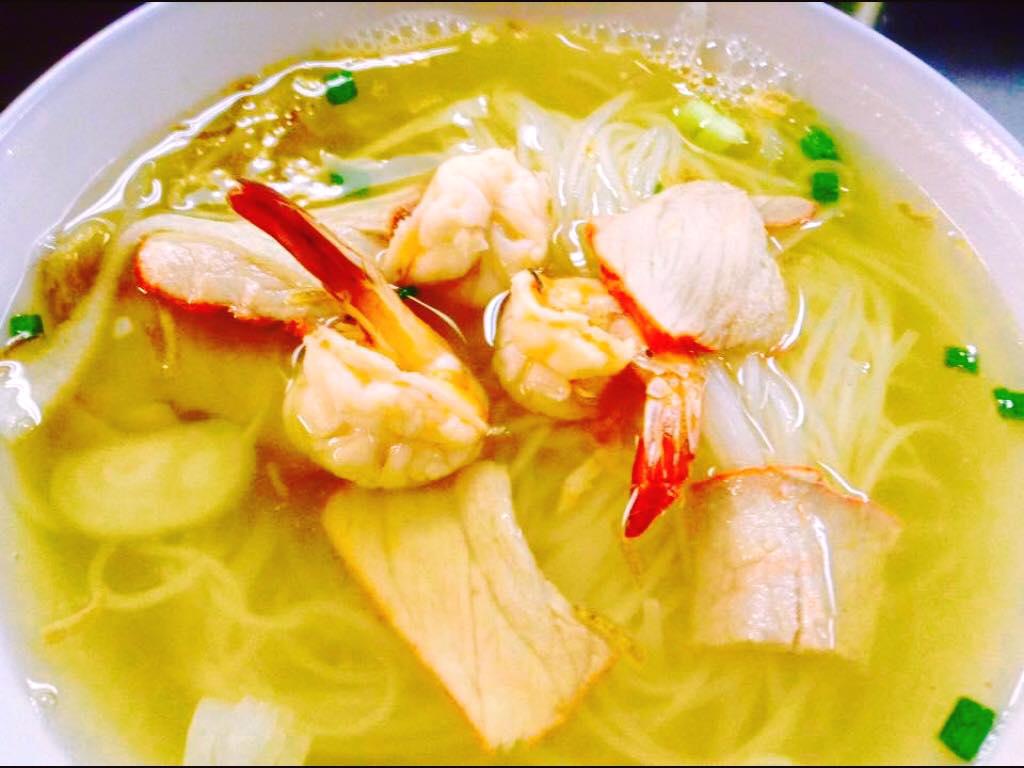 Pictured: V11. Hu Tieu Mem - Rice noodle soup with shrimp, and roast pork
Com Dia - Rice Portion
V12. Com Thit Heo Nuong
Steamed rice served with pork chop
V13. Com Thit Heo Nuong Voi Trung Chien Ofla
Steamed rice served with grilled pork chop and medium fried chicken egg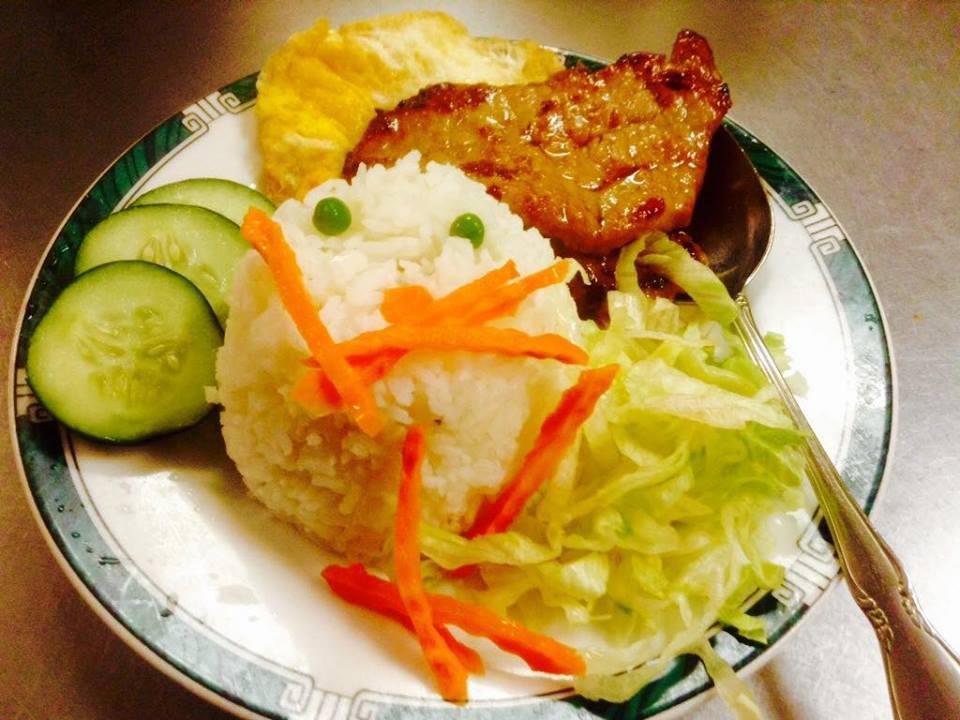 Bun - Vietnamese Salad Bowl
V14. Bun Cha Gio
Vermicelli noodle with Vietnamese egg rolls
V15. Bun Thit Heo Nuong
Vermicelli noodle with grilled pork chop
V16. Bun Tom Nuong
Vermicelli noodle with grilled shrimp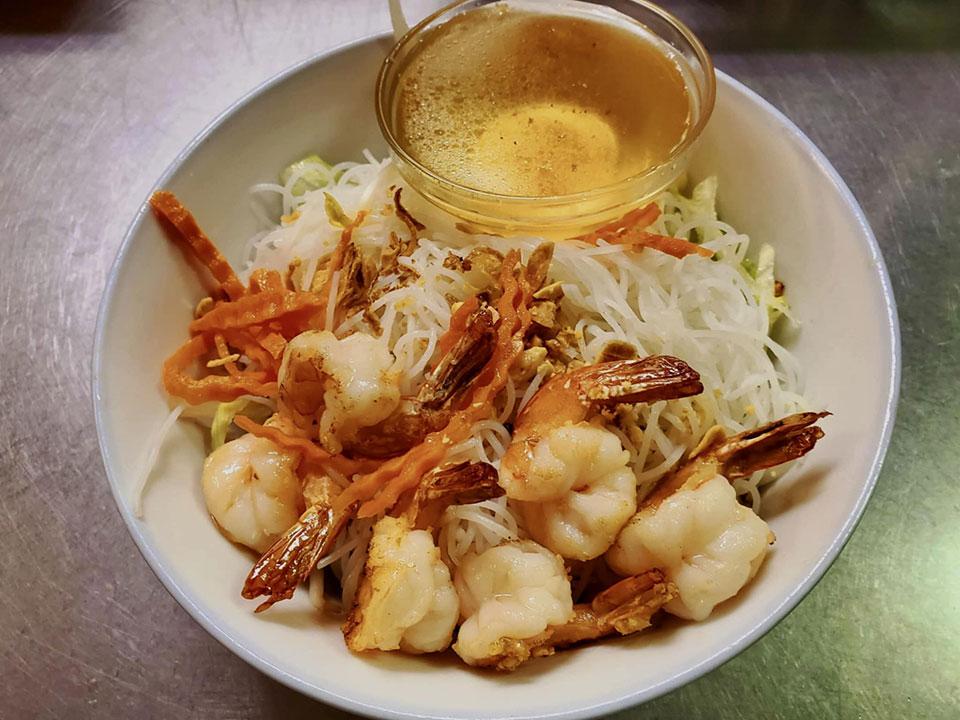 Pictured: V16. Bun Tom Nuong - Vermicelli noodle with grilled shrimp
V17. Bun Nem Nuong
Vermicelli noodle with grilled meatballs
V18. Bun Tom Voi Thit Heo Nuong
Vermicelli noodle with grilled shrimp, and grilled pork chop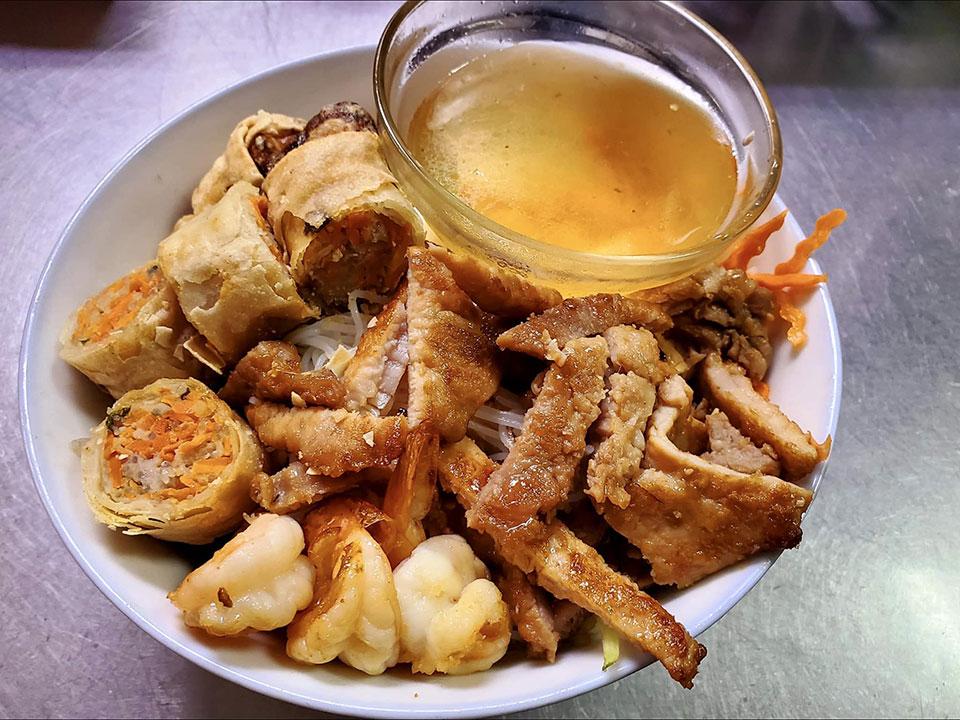 Pictured: V18 with V3 added - Bun Tom Voi Thit Heo Nuong -Vermicelli noodle with grilled shrimp and grilled pork chop, with V3 Vietnamese Fried Egg Roll added
V19. Bun Thit Bo Xao Sa
Vermicelli noodle stir fried beef and lemon grass
V20. Bun Thit Ga Xao Sa
Vermicelli noodle stir fried pork and lemon grass
V21. Bun Tom Xao
Vermicelli noodle stir fried chicken and lemon grass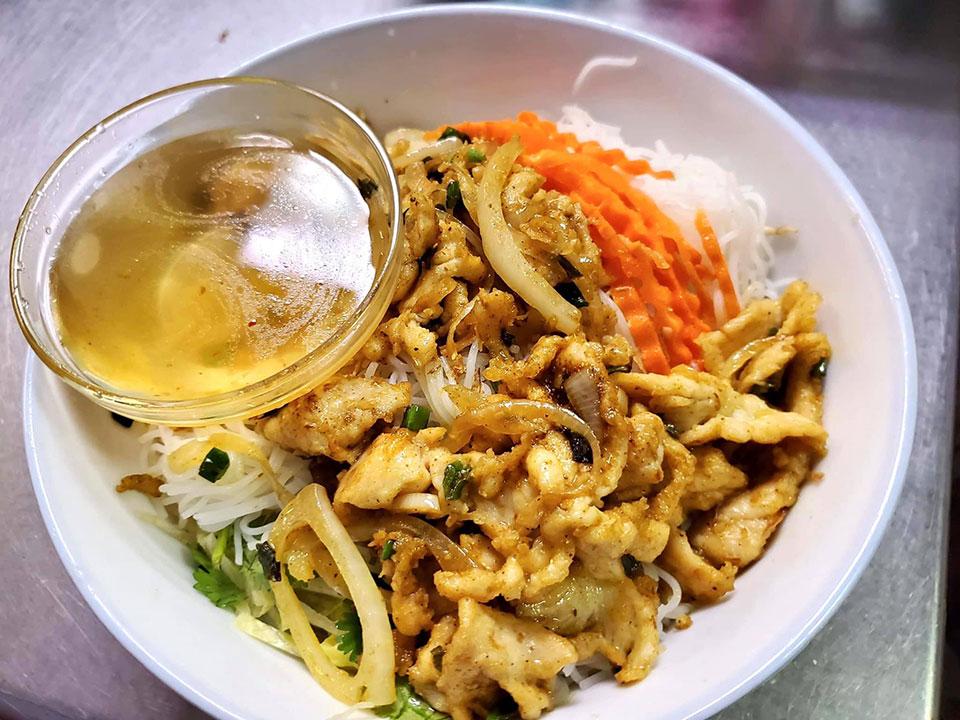 Pictured: V21. Bun Tom Xao - Vermicelli noodle stir fried chicken and lemon grass
V22. Bun Tom Xao
Vermicelli noodle stir fried shrimp and lemon grass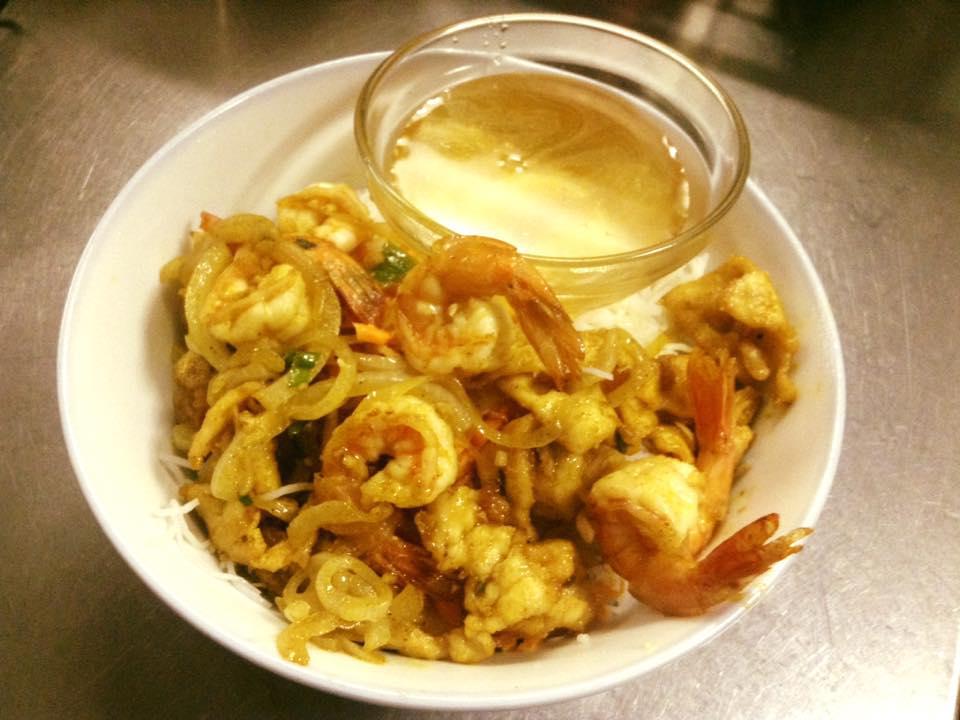 Pictured: V22. Bun with a touch of curry
V23. MI, HU TIE WONTON
Wonton Noodle Soup
GIAI KHAT – Beverages
V24. Ca Phe Den
French Coffee
V25. Ca Phe Da
French Coffee with Ice Cubes
V26. Ca Phe Sua
French Coffee with Condensed Milk
V27. Ca Phe Sua Da
French Coffee with Condensed Milk and Ice Cubes
V28. Sua Dau Nanh
Soy Bean Milk
V29. Trà dá Thái Lan
Thai Iced Tea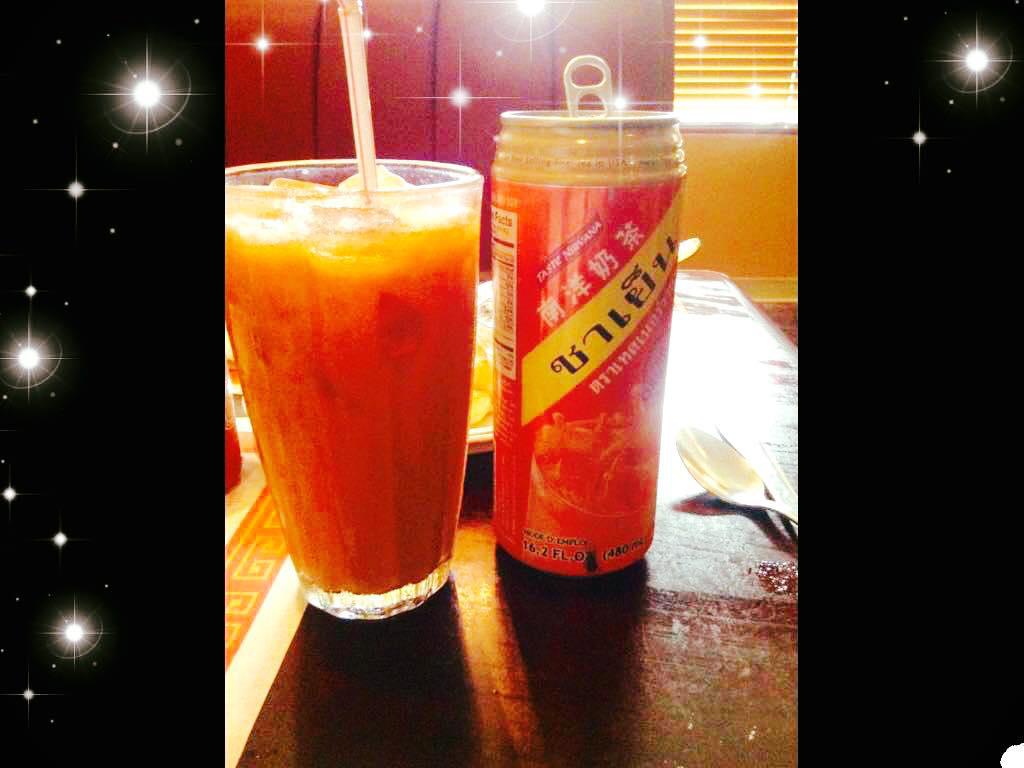 Pictured: Thai Iced Tea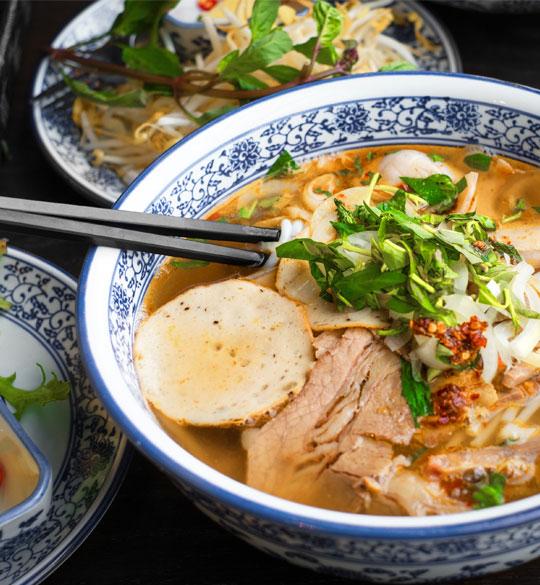 Hours
Monday: Closed
Tues. - Thurs: 11:00am - 8:00pm
Fri & Sat: 11:00am - 9:00pm
Sun: 11:00am - 8:00pm
Contact Info
5326 West 26th Street
Sioux Falls, SD 57106