Dine In and Carryout
For Special Family Dinners
(Minimum of 2 people required)
Choice of Egg Drop Soup, Spicy & Sour, Wonton Soup. Served with Fried Rice and Egg Roll, Fried Wonton for Appetizer (No substitution for Soup and Appetizers)
For your entrée please select your own favorite dish below:
Mongolian Beef
Almond Chicken
Triple Delight
Vegetable Deluxe
Beef and Broccoli
Da-Chin Chicken
Szechwan Pork
Cashew Chicken
Fragrant Pork
Sweet & Sour Pork or Shrimp or Chicken
Szechwan Beef
Garlic Chicken
Pork with Plum Sauce
Pepper Steak
Kung Pao Chicken
Hunan Pork
ST
P BY TO CHECK OUT OUR DAILY LUNCH SPECIALS
Soups
Pictured: Spicy Sour Soup, Wonton Soup and Eggdrop Soup
Jumbo Noodle Soup
Wonton Soup
Eggdrop Soup
Spicy Sour Soup
Chicken Sizzling Rice Soup (for 2)
Shrimp Sizzling Rice Soup (for 2)
House Special Wonton Soup (for 2)
Vegetable Soup (for 2)
Dragon and Phoenix Soup (for 2)
Tofu Soup (for 2)
Appetizers
Pictured: Potstickers - Lightly fried underneath the dough until golden and crispy. Served with special sauce.
Eggroll
Fried Wonton (6)
Hulla Beef (6)
Chicken Wing (6)
Hot Wing (6)
Crab Rangoons (6)
Pot Sticker (6)
Chicken Finger and French Fries
Fried Shrimp and French Fries
Corn Dog and French Fries
Tidbit Tray (2 Hulla Beef, 2 Fried Wonton, 2 Chicken Wing, 2 Crab Rangoon)
Happy Family
Shrimp, scallops, chicken, and pork sauteed with broccoli, mushrooms and baby corn. Served on a hot plate.
Triple Delight
Chicken, beef, shrimp, broccoli, straw mushrooms, baby corn, bamboo shoots and snow pea pod with the oyster brown sauce.
Scallop (or Shrimp) and Steak Sizzler
Tender Slices of beef marinated in rice water, seared in high flame to retain its natural flavor, then sauteed with scallops (or shrimp) and mushrooms in a succulent oyster sauce and served at your table on a sizzling platter
Seafood Guo-Ba
Shrimp, scallops, and crab stir fried with Chinese vegetables. In a tempting brown sauce and served on a bed a sizzling rice
Seafood Phoenix Nest
Shrimp, scallops, and baby corn, snow pea pods, water chestnuts, mushrooms and bamboo shoots with white sauce
Chicken in a Nest
Tender breasts of chicken, peapods bamboo shoot with sauce, served in noodles basket nest
Pan Fried Noodle
Sliced beef, chicken and shrimp sautéed with Chinese vegetables, served over pan-fried fresh egg noodles
General Tso's Chicken
Diced Chicken with carrot, onions, green pepper in our chef's special hot sauce
Orange Chicken
Diced Chicken with carrot, onions, green pepper in our chef's special orange citrus sauce
Sesame Beef (or Chicken)
Sliced beef (or chicken)quickly stir-fried and topped with sesame seed.
Shrimp and Chicken Szechwan Style
Stir Fried with peanut and onion with spicy sauce
Szechwan Beef
Sliced beef cooked with celery and carrot shreds in special hot sauce
Kung-Pao Beef
Sliced tender beef with peanuts and onions in a hot brown sauce
Shrimp (or Chicken) Majestic
Deep Fried shrimp or chicken with special garlic sauce
Hunan Fish
Fish deep-fried until golden brown topped with garlic sauce
Braised Fish Cantonese Style
Deep Fried fish with Chines vegetables and special sauce
Duck with Mushrooms
Sliced duck sauteed with mushroom, bamboo shoot and peapods in brown sauce
Pineapple Duck
Deep Fried boneless duck with pineapple sauce
Szechwan Duck
Deep fried boneless duck, in Szechwan Style sauce, prepared on diced lettuce
Harvey's Chicken
Chicken deep fried until golden brown in Hunan sauce
Honey Glaze Chicken
Lightly fried chicken with honey roulty honey sauce
Pad -Thai (Noodle Dish)
Your choice of meat: chicken, beef, pork or shrimp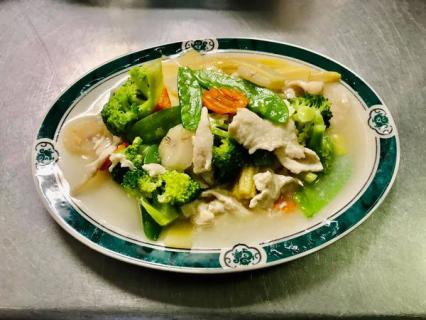 Fragrant Chicken
Sweet and Sour Chicken
Almond Chicken
Cashew Chicken
Moogoo Gai Pan
Lemon Chicken
Chicken Broccoli
Chicken Mixed Vegetable
Chicken with Curry Sauce
Kung Pao Chicken
Hunan Chicken
Szechwan Chicken
Da Chin Chicken
Garlic Chicken
Pineapple Chicken
Chicken with Snow Peapods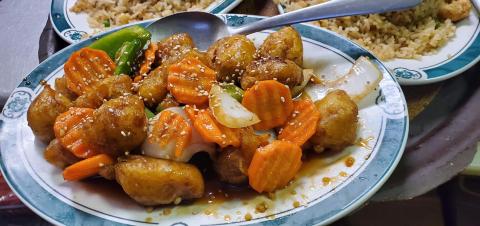 Sweet and Sour Pork
Pork with Mixed Vegetables
Pork with Plum Sauce
Hunan Pork
Szechwan Pork
Fragrant Pork
House Special Pork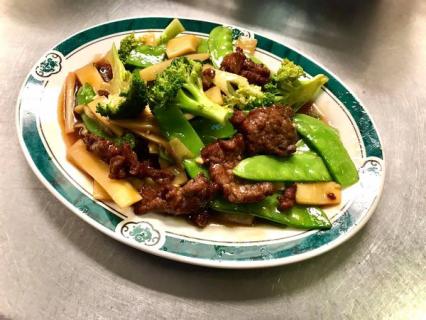 Beef and Broccoli
Mongolian Beef
Pepper Steak
Beef with Snow Peapods
Beef with Mushrooms and Bamboo
Sa Tsa Beef
Hunan Beef
Assorted Vegetable Beef
Fragrant Beef
Curry Beef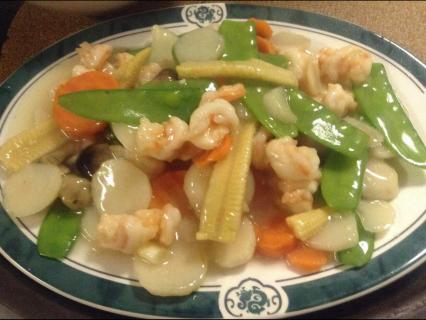 Sweet and Sour Shrimp
Shrimp with Snow Peapods
Shrimp with Lobster Sauce
Shrimp with Mixed Vegetables
Cashew Shrimp
Hunan Shrimp
Szechwan Shrimp
Fragrant Shrimp
Garlic Shrimp
Kung Pao Shrimp
Vegetables Deluxe
Mushroom with Bamboo Shoot
Fried Tofu (Family Style)
Szechwan Bean Curd (Ma Po Tofu)
Fragrant Vegetable
Chicken Egg Foo Young
Pork Egg Foo Young
Beef Egg Foo Young
Shrimp Egg Foo Young
Combination Egg Foo Young
Vegetable Egg Foo Young
Moo Shu Chicken
Moo Shu Pork
Moo Shu Beef
Moo Shu Shrimp
Chicken Fried Rice
Pork Fried Rice
Beef Fried Rice
Shrimp Fried Rice
Combination Fried Rice
Ham Fried Rice
Vegetable Fried Rice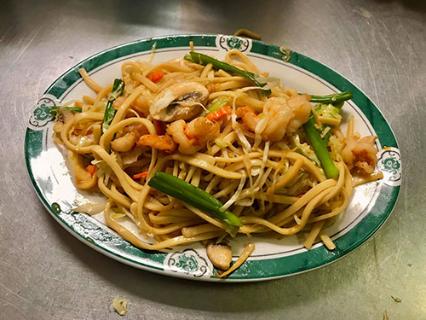 Chicken Lo Mein
Pork Lo Mein
Beef Lo Mein
Shrimp Lo Mein
Combination Lo Mein
Vegetable Lo Mein
Special Lo Mein (Cantonese Style)
Chicken Imperial Lo Mein
Pork Imperial Lo Mein
Beef Imperial Lo Mein
Shrimp Imperial Lo Mein
Combination Imperial Lo Mein
Imperial Lo Mein: Stir fried mixed vegetables, in special oyster sauce on soft noodles
Chow Mein (Served with Crispy Noodles)
Chicken Chow Mein Pork Chow Mein Beef Chow Mein Shrimp Chow Mein Combination Chow Mein Chop Suey - Chicken, Beef or Shrimp
Denotes Spicy/Hot
Hours
Monday: Closed
Tues. - Thurs: 11:00am - 8:00pm
Fri & Sat: 11:00am - 9:00pm
Sun: 11:00am - 8:00pm
Contact Info
5326 West 26th Street
Sioux Falls, SD 57106
605-361-7788
605-362-8888